The good news is that I had zero expectations that the Vikings would have a chance in this game. Weirdly, the game score is much closer than I anticipated. That, of course, is attributable to defensive plays and a kick off return on the first play by #84 Patterson.
Let's get to it.
The Good:
A kick off return TD by Cordarrelle Patterson (105 yards) on the first play of the game.
A strip (Jared Allen) and a fumble recovery for a TD (Brian Robison)
Watching Jordy Nelson frolic with a fairy in a commercial for Travel Wisconsin. Any time a commercial can make a Packer look stupid, I'm for it.
The defense managed to force a 3 and out after Peterson's fumble so that the Bears didn't capitalize on the error.
Harrison Smith's interception at the start of the 4th quarter.
Letroy Guion's hilarious strip of Matt Forte. Haven't seen something like that since Clay Matthews stripped Peterson in the Dome back in 2009. He just reached in as if to say, "Hey… let me take that off your hands."
The Bad:
Poor turf conditions early in the game really inhibited Peterson's ability to cut and run.
FOX's continual issues with technology, including cutting to the half-time show while the Vikings were still playing.
Tackling fundamentals continue to be an issue. Unless you're Leslie Frazier – then you just ignore that and keep chugging along.
Chad Greenway: his angles were terrible and he missed many tackles.
Adrian Peterson fumbled in the 3rd quarter; it was reminiscent of his issues in 2009. He better take care of that right now. I'm not going to watch him fumble all season.
Adrian Peterson's hand getting munched.
Field goals instead of TDs. If Ponder had been able to convert one of the field goals – just one – to a TD, this would have been a win.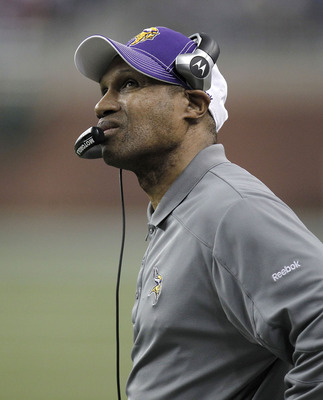 The Ugly:
Christian Ponder. Whether he's staring down his receivers or completely ruining a big defensive play by throwing an immediate interception, he sucks. He does not belong in the NFL. I want him off my team.
Leslie Frazier is still the head coach.
Bill Musgrave is still our untalented, unimaginative and repetitive Offensive Coordinator
Our o-line remains sieve-like and there's a distinct lack of cohesion.
2 times the offense could have gotten a TD and 2 times we got field goals as a consolation prize. We have to increase effectiveness in the red zone. Stated more plainly: we're completely ineffective in the red zone.
Ending the game with a defensive take-away by the Bears was just the icing on the cake. I have to admit that I laughed until I cried on that one. Typical.
There it is my Vikings brethren. Week two. And we're 0-2. In my opinion, it's going to be a l-o-n-g season filled with a bunch of crap we're going to wish we didn't have to watch. But we'll watch regardless and hope for the day when the Vikings' front office staff stop ruining our team with inappropriate coaches and inability to draft competent quarterbacks.
What's your prediction for the Vikings season?
See you next week Vikings fans!